To prepare for the UK Games Expo, I decided that I would get in contact with designers, publishers and other content providers in an effort to become more involved in the boardgame industry. My first interview is with Stuart Garside from District 31. He has a new game that is being launched on March 16th at noon called Ember: The Magical Card Game.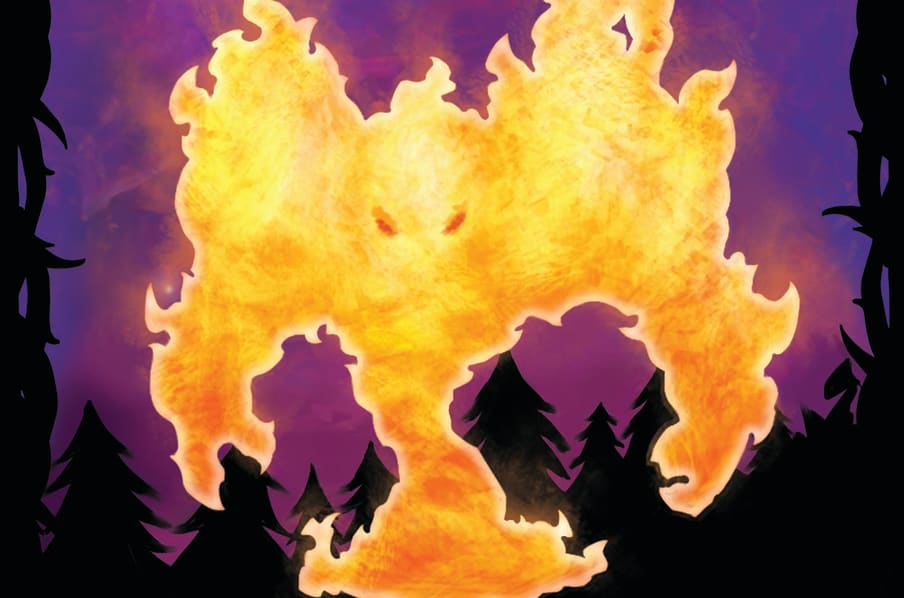 1) Could you tell us more about yourself, a bit of history if you will and what you do at District 31?
I'm the director and creative influence. I've been a professional columnist (now retired) since the early 90s but left all that behind to focus on my own company. I spend most of my time trying to find new and reliable artists and when I'm not doing that, I'm trying to write up the latest game rules and the many projects going on here at any one time.
2) When I hear the name District 31, I can't help but think of the film District 9. How did you come up with the name District 31. What was the inspiration?
I wanted something that was a bit mysterious and wasn't just the same old adjective + noun + games format. We're like the Chocolate Factory, it's a place of magic and mystery and there's all sorts of cool things going on inside.
District 31 doesn't just make games; we've got lots of other stuff in the works. Even something edible by Halloween… It all depends on how lucky District 31 is with the backers and funding. If we do well, then you'll see more products. The next Kickstarter will be a sort of art book about – well – send cake and I'll tell you.
3) You have a game called Ember that is launching on March 16th 2016. Could you tell us more about the development of the game? Why Mages and mystical creatures? Why did you choose the name Ember?
When I was working on KaBlooey (the first game I wanted to release) I originally had this idea of apprentice wizards sitting around a camp fire throwing around a spark of magic that could go off at any moment. I shelved that and it was only when I simply couldn't get enough reliable feedback for KaBlooey that I went back to the drawing board to make a really simple game that would put District 31 on the map. The game that was originally called Spark, became Ember. Sure, it's simple, but because it was simple, it was easy to get feedback and to deliver a polished product.
So if you're a gamer, please consider giving back to the developers you like by giving them feedback on their next game. It's so easy to comment when their game isn't tested enough, but getting feedback really is incredibly difficult.
4) I have to admit that the artwork is what caught my eye to Ember even before I knew what the gameplay was about. So for those that have not heard of the game. Can you tell us more about Ember?
Ember is a themed fantasy game where you play apprentice wizards trying to manipulate the Ember, a shard of magical truefire. You make "hands" from the cards you've been dealt and conjure creatures, each with a unique magical power, that can help you or hinder your opponents. It's very fast and simple and it's really an intro game. But there is plenty of strategy and there are paths you can take with the creatures you conjure that will form all kinds of combos, which, even after a year, I'm still seeing new and crazy ones which excite me.
I'm hoping we meet some Stretch Goals this time as there are a bunch of cards designed which I hope make the final game. The Legendary Creatures expansion adds a whole new element of play, while the Minions of… decks supercharge play with all kinds of strategies.
5) I'm always interested in playing games with my family and I'm always intrigued by the educational element of games. What skills could it teach my son? Looking at Ember, do you think it would fit in an educational setting?
I think if anyone is interested in mythology all the cards are the perfect way to discuss those ancient myths and stories– in fact, Ember contains a lot of Greek mythology – so there's a perfect door to discussions about gods and monsters.
I think all games have lots of educational elements, but Ember is a card-watching game so you have to watch your own cards and their sets, but it's crucial to be watching your enemies and counting their creatures and keeping on top of who has what and what those cards could do to your game… It definitely keeps you on your toes mentally.
6) Can you tell us about any other games or projects that you have developing?
There's KaBlooey – which is coming right after Ember. It's a game of bombs where you react to your opponent's plays and trying to blow up everything on the table. It's a lot of fun and it's been playtested a lot of places now and there's always much mirth at seeing a player's well-constructed strategy be destroyed at the hands of the other players.
Then there's the re-release of my Vampires book, which was released almost 20 years ago and will be HUGE. A book about vampires in a glorious hardcover.
7) I'm doing a series of interviews with publishers and game designers that are going to attend the UK Games Expo. What is your impression of the Expo? Apart from Ember, do you have any other games that you wish to showcase to the audience?
I love the Expo. I've been going for years. It's a great show and gives people a massive opportunity to play every game out there, including all those games they didn't know they should be playing. I always make sure I have time to get in a game of 7 Wonders, which I love…
Ember will be at UK Games Expo. And there'll be many playtests of KaBlooey.
And maybe, dare I say it, my magical dice game will make an appearance. But shhhh. I didn't mention that.
8) I notice that you try and keep production local by using local printers. Do you find that it has helped you during the development of your games or has it been challenging in keeping costs down?
Oh this is a controversial issue and I've personally had quite a lot of "experts" be extremely "vocal" of late as to my choices on where to print. I personally would keep all printing in the UK, regardless of cost, but the main game card game printer here simply took an age to get back to my emails, and that didn't fill me with any confidence. It means a lot to me to support local industry and I know most people don't give it a moment's thought, but as long as I'm being true to myself that's all that matters. I think it's important to say there's not really any one right way to make print products.
I've been in publishing for over 20 years now and I've done my research. If you negotiate, have a strong plan of action, are releasing lots of products and keep relations good with your printers, you'd be amazed at how reasonable the prices can be. My printer is a few hours' away by plane, my costs don't have any crazy shipping costs or shipping delays, and, best of all, I can go visit them on printing day to make sure the print goes without a hitch. Surely that's all worth more than 50 pence per game?
9) Going back to yourself, do you have a favourite game that you play when you're not busy with District 31?
It will always be Dungeons & Dragons. You have a limitless universe in just three books. They would forever be my Desert Island books. But failing that, I don't get much time for gaming, but I love dice games – so Quarriors would always be a fond favourite.
10) Any last words?
I would add: People need to back Ember because while it's really simple, it's literally my gateway stepping stone to much bigger things. All the profits are going on the incredibly expensive art for Vampires (KaBlooey is all-but finished) but really, unlike those huge companies which fling campaigns at Kickstarter on a (seemingly) monthly basis, District 31 is still a set up company and we really need the support.
I would like to think Stuart for allowing me the opportunity to look at Ember: The Magical Card Game and for taking the time to answer these questions in the lead up to a busy Kickstarter launch.