The last couple of weeks has been busy for me writing articles, preparing games for the local Beaver group and playing upcoming Kickstarter prototypes.
I volunteer at the local Beaver group and last week was 'Games Evening'. So rubbing my hands gleefully, this was mine to orchestrate. So looking at my collection, I had to fit the criteria:
Easy to setup
Easy to play with multiple children
Easy to teach six to eight year old who are hyped up
Fun
In the end, I took Robot Turtles, Brain Box Space, Rory's Story Cubes and Labyrinth.
It went fantasically well, their eyes lit up when they saw the tables with the various games and ran over to each one asking how to play it.
Robot Turtles – Robot Turtles is Malachi's favourite game, he's done a Youtube walkthrough of it and knows the game inside out. He was bouncing from foot to foot, explaining the mechanics and objectives of the game to his friends and to his credit, he did fantastically well. I noticed that the older children took to it more as they could relate to it as they had done Scratch (a educational tool that teaches them how to program) at school.
Rory's Story Cubes – To be honest, I didn't think that the kids would like to roll dice and tell stories. What do I know! This was a roaring success, they loved telling Wolf (me), Cheetah and Otter (the other leaders) really detailed stories based on what they rolled. I have to admit that children really do have really wacky and fantastical ideas. For a game that consists of nine dice with images on them, this took up the majority of their play time.
Brain Box Space – A couple of weeks ago, I ran a session where I got the children to earn their Space badge by placing images of the planets in order, talked about constellations and got them to make constellations out of marshmallows and cocktail sticks. So when I had the opportunity to show the kids the game, they loved it as they knew that it would go towards their completion of the Space badge. Normally, the game says that you have to let them look at the fact card for ten seconds, flip it, roll the dice and then answer the corresponding question based on the dice roll. Considering that it was late and they had been at school, we decided that it would be a group effort and they had 30 seconds to look at it.
From the feedback I got from the other leaders, they enjoyed it immensely and were keen to shout out the answers (even if they guessed wrong). They had fun and we had to drag some of them away to let others have a go.
Labyrinth – As soon as I got this out, their were numerous cries of, "I've played this game before" and again a huge crowd gathered around trying to play it. I didn't have to explain the rules to the game as the more experienced gamers at the table showed the newcomers what to do. The only downside to this was that only four people could play at a time so we had to rotate people in and out after a few turns.
In summary, it was a blast. Malachi did me proud as he was vigilant on his friends treating his games with respect (he was hot on people picking up the cards that dropped to the floor, he made sure that no one threw components around and he gave a stern but friendly warning on anyone that looked like they were a 'card-bender').
Social Media Update
I thought I would include my social media statistics:
Facebook – I created the 'Angel of Dice' Facebook page and I'm posting links there. Not really sure how to fully utilise it but I have a feeling that I'll be able to interact more of Facebook when more people like the page. Right now, it is mainly a page to keep an eye on related boardgame facebook pages and ensure that the links from here are posted on there for people to look at. Currently I'm sitting at 3 likes, so like my page.
BoardGameGeek – I'm still trying to make sense of it but it's getting there. I'll slowly add to my game collection and review geeklists as well as try to be more active on the forums.
YouTube – I'm slowly making my way to 100 subs and I'm always striving to improve my videos as I do them. I'm currently sitting at 75 subs and I have a feeling that my subscribers are a mixture of let's players and boardgamers. That's fine. Over the next couple of weeks, I'll be cementing a schedule so that people know what to expect from me. It'll be nice to get more feedback and subscribers. I look forward to delivering good quality content.
Twitter – I actually like Twitter, it's been the main place where I can interact with other people in the board game industry and not feel like an outsider. It's a great tool to speak to upcoming designers, content creators and companies. Currently, I'm 85 people from 1000 followers. Not bad. Again, I look forward to talking with you and interacting. It's nice to build a community.
I'm thinking about what games I would like to get in the next coming months and espically at the UK Games Expo.
So far, my list looks like:
Star Trek – Five Year Mission – I do like Star Trek more than Star Wars so I'm intrigued to see how this looks. I might have to check out some reviews to see if it plays ok or whether it's an IP slapped on a non functioning game.
Hostage Negotiator – This looks very interesting and I like the idea that it is a one player game. It means that I can play it on my own at work or when my wife is watching Vampire Diaries and Grey's Anatomy (slight confession – I do watch it as well).
Perfect Crime – This hasn't been released yet by Grublin Games. The synopsis (as stated by Grublin) is Perfect Crime is a modern day, multi-layered, asymmetrical bank robbery game with hidden information, tones of tension and is based on real life and filmic heists. It's a game for 2+ players and takes about 45 mins to play. I get images of Netrunner with hints of Payday 2. I think of the old Sierra PC Games such as Police Quest where you had to do everything right to be successful.
It would be sweet if you could design your own missions and possible recreate scenes from movies. I will be playtesting via PnP. Hopefully, I can bring my Quality Assurance experience to the game and analyse it. It's going to be interesting and maybe I should blog about it. Who knows? Regardless, I will definitely be looking out for it at their stand at the UK Games Expo.
I'm a sucker for theme and stories when it comes to boardgames, I like the idea of being drawn into the world that I'm playing.
First Martians: Adventures on the Red Planet. It's by Portal Games designed by Ignacy Trzewiczek. I have Robinson Crusoe and Imperial Settlers, so it seems wrong that for a designer who loves to tell stories. This is a must have. I have to check when it's out, but in the mean time, here is the synopsis and enjoy the teaser trailer.
Built on the core of the award-winning Robinson Crusoe: Adventures on the Cursed Island, First Martians: Adventures on the Red Planet pits players against the hostile Martian environment and a whole host of new adventures and challenges. The immersion experience is further enhanced with an integrated app that maintains the balance and challenge throughout. Players have the option of taking on the design as a series of separate games, in a custom campaign mode in which each successive game builds on the last, or even an open world mode in which they are free to roam about the Martian surface and explore for as long as they can survive.
StateCraft – The Political Card Game
With all the US presidential elections going on, (What is a Caucus?) and the UK Prime Minister, David Cameron trying to convince the public that we should be staying in the European Union, I thought I should highlight a current Kickstarter project from 'In the Box Games'. The game is called 'Statecraft'
Statecraft is a game about politics. Build a political party in a familiar but fictional world, recruiting politicians to your cause, developing your manifesto of support winning ideas, campaigning for the support of the public, firing off salvos of slander & sabotage at your cunning rivals, and surviving catastrophic events that shake up the nation you're playing the game of politics in.
Currently, it is on £2,873 out of £15,000. It has 21 days to go. You can print off the Print and Play if you want to experience the game before you pledge.
Dirty Cop: A Game for Scoundrels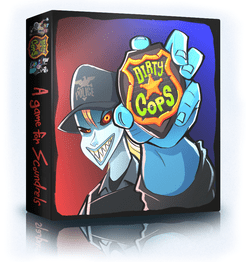 I've had the opportunity to have a copy of Dirty Cops. The setup, playthrough and review will be up soon.
Dirty Cops is a fast-paced game for 2 to 4 players. Players will work together to fight teams of
criminals, while stabbing each other in the back to get the most money. The player with the most
money at the end wins.
They are targeting March 14th 2016 as the Kickstarter launch date, ending on April 12th. As soon as I get a link, I will share it with you, the readers.